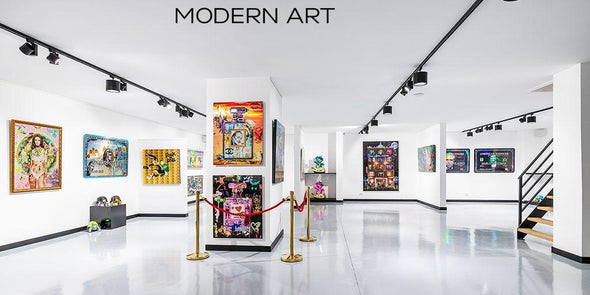 At ModernArt everyone is welcome. Our art collection includes a wide selection of various artworks and sculptures of national and internationally well-known artists.
The team behind the gallery has a passion for all forms of art but specializes in ModernArt pieces.
Modern art is very broad and many artists are part of this unique period in the art world. Various movements are part of it and it is therefore only logical that you first want to do good research into what suits you. You can do that with Modern Art. First of all, thanks to our large and versatile art collection. In addition, we have a worldwide network of artists and galleries, which gives us the opportunity to get in touch with almost all artists.
The gallery was officially founded 5 years ago but the team has been active in the art world for almost 15 years. Modern Art is located in the city Leiden and has more than 400m2 of art collection.
From our location in Leiden, we participate at international art fairs to represent our artists. At the international art fairs, we also look for new innovative and promising artists, which we regularly add to our art collection.
Because of our international experience, we have contact with specialized carriers to deliver your purchased artwork anywhere in the world. For more information, please contact us.