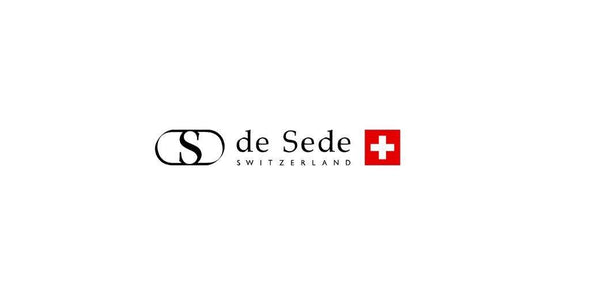 The iconic Top brand in the world of Design living.
High-level craftsmanship, strict quality requirements and maximum attention to detail are the values that have made De Sede a top brand in the living world.
De Sede has its origins in a small but skilled saddler's shop in Klingnau, Switzerland. The team of artisans is committed to transforming the best possible leather into design seats. Their years of experience and diligence have enabled them to create unique quality handmade leather chairs, armchairs and sofas. In 1965, the family-owned company became a joint-stock company called de Sede AG but remained true to the original guiding principles.
The company developed rapidly and from now on:
- The best designers of international calibre were involved to create seating furniture,
- Additional production plants were opened
- An international distribution network has been created.
Sophisticated designs that cleverly integrate traditional and precise Swiss workmanship quickly earned the brand an international reputation.
Today, de Sede AG presents itself as a leading manufacturer of exclusive leather furniture. From the original small workshop, a company has emerged that employs over 110 people and distributes furniture to more than 69 countries, including the United States and Russia, GCC countries, and even emerging markets like China and Brazil.
d

e Sede History

1962: Ernst Lüthy founds a small upholstery company in Klingnau, Switzerland. His team specializes in the highest quality custom leather furniture, made with traditional craftsmanship.

1964: First participation in IMM Cologne and first exports

1965: The family business Ernst Lüthy is transformed into De Sede AG.

1967: Introduction of hand-stitched smooth stitching to the DS-31 model.

1968: Expansion of export activities on international markets through the targeted acquisition of well-known market players.

1969: Applying a patchwork finish on DS-80 Daybed.

1971: The DS-P model with honeycomb stitching and down filling is marketed for the first time on the market.

1972: The DS-600 modular snake-shaped seating concept revolutionizes the furniture market.

1973: Expansion of the production facility in Klingnau. Development of a production network in Switzerland and Germany.

1974: Ubald Klug designs the DS-25 Terrace (now known as DS-1025).

1976: COLLO leather, a type of cowhide with a thickness of up to 6 mm, is applied for the first time to the DS-47 and celebrated as a milestone in the history of upholstered furniture.

1984: Acquisition of the company by PCW Group.

1985: Market launch of Reto Frigg's DS-140: thanks to its new rotating seating system, the sofa can be transformed into an elegant double armchair in just two steps.

1986: Santiago Calatrava creates DS-150, a futuristic bed of unique beauty.

1989: Launch of the DS-4000 range, which includes the first models with an aluminium frame in the furniture industry.

1993: Management takeover by Hans-Peter Fässler and Bernhard Schüler.

1997: DS-102, designed by Mathias Hoffman, redefines the concept of seating islands.

2000: Acquisition of FSM Frank Sitzmöbel GmbH.

2002: Market launch of Antonella Scarpitta's DS-7, the first model in the world to feature the "folding / extendable backrest mechanism" patented by de Sede.

2003: DS-164 with its 360 ° rotating back element is another technological revolution patented by De Sede. Design: Hugo de Ruiter

2007: Capvis Zürich acquires de Sede AG and integrates the company into the new de Sede group.

2010: Gordon Guillaumier designs the new DS-60 sofa system, inspired by the pure shape of a boomerang with its bold yet elegant lines.

2012: DS-333 surprises consumers with its eye-catching appearance and the fascinating interplay of different materials. Its connective leather straps are reminiscent of those found on old suitcases.

2013: Seven Swiss private investors found DESEMA Holding AG and incorporate de Sede AG and Machalke Polsterwerkstätten GmbH into it. Each company maintains its own management.

2014: Monika Walser takes over the management of de Sede AG in April 2014.

2015: 50th anniversary of de Sede and the introduction of the anniversary model, DS-900, a reinterpreted rocking chair. Sale of Machalke Polsterwerkstätten GmbH in Hochstadt, Germany.

2016: Stephan Hürlemann's DS-21 sofa, inspired by the Bauhaus movement, combines the ease and familiarity of a seating area with the grandeur of tall feet.

2017: The manufacture launches its first bag collection at Mode Suisse in Zurich (CHE) and opens its first store in Los Angeles (USA).

2018: Introduction of the first semi-outdoor collection from De Sede in a world of furnishings with attention to the smallest details. In July 2018, the Swiss manufacture moved to Harrods department store in London with its own shop-in-shop.
THE PHILOSOPHY
ARTISAN MASTERPIECES
With their unique leather products, they awaken all the senses of people around the world, turning heads with each creation. Every master craftsman in their workshop in Klingnau, Switzerland responds to this call.
Their roots are their long-standing and rooted experience in the leather that allows for stable stem growth - their laboratory. Driven by continuous product innovation and the pursuit of the best, the crown blossoms into ever-changing forms: their collection.
Quality as a basic principle
Production
ARTISAN MASTERPIECES
They dedicated themselves entirely to production, to the work done by hand. With the refinement and perfection of craftsmanship they have cultivated since the company's foundation, they can be assured that every piece of furniture they produce meets their extremely stringent and high-quality standards.
Their specialists ensure that all the leather they treat is of the best quality. Their leather cutting operation is staffed by specialized experts with a trained eye who spot any leather irregularities, planning production so that they are not visible in the finished piece of furniture. Sophisticated coating technology with modern materials also requires a high degree of knowledge and experience; this also flows into every piece of furniture made by de Sede. Their upholsterers are masters of their craft. To complete the production there are exact seams, some made by hand, which give De Sede products the status of unique objects.
Top-notch craftsmanship, rigorous quality requirements, utmost attention to detail and personal commitment from all employees have made De Sede famous.