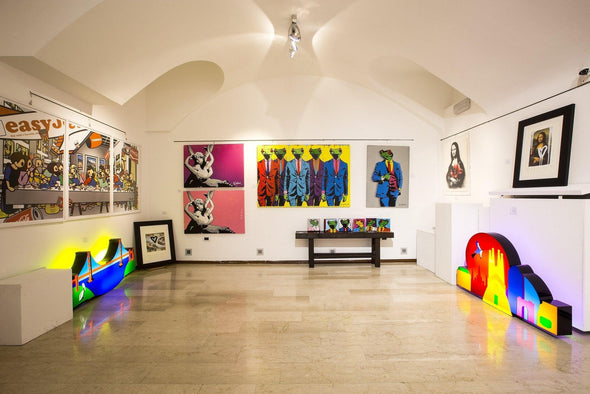 Deodato Arte is the leading brand in Italy and a world reference point for Pop and Street Art.
The gallery based in Milan offers the public and collectors the works of the most famous international artists such as Banksy, Mr. Brainwash, Jeff Koons, Romero Britto, Damien Hirst, Takashi Murakami, Andy Warhol and many others, many of them are represented exclusively in Italy and around the world.
Deodato Arte is a brand that includes 6 galleries, strategic collaborations with prestigious online stores specializing in luxury lifestyle and develops special projects in the context of contemporary art. With the careful selection of Deodato Arte is possible to find artists selected and represented in an exclusive way with a consultancy service and high-level expertise in the sector.
Since the opening of the first gallery in 2010, Deodato Arte has invested in digital and technology to offer a dynamic service as advanced as possible to "modernize" the art world, in our opinion still far from the revolutions of the last 20 years.
In recent years, the growing success has led the Deodato Arte Gallery to expand in Europe and around the world. In 2020 the Wunderkammern Gallery (Rome / Milan), a reference point for Street Art, was acquired, in the same year, Deodato ART opened to the international markets with the opening of a new office in Brussels, and the planning of a strategic opening in the United States.
THE PHILOSOPHY

Transparency, quality and accessibility. As explained by Deodato Salafia in his book
"Contemporary Art 'How to: Your first five works of art"
The philosophy is to overcome the closure and elitism typical of the art world.
Deodato Arte is for everyone, from the established collector to the beginner or the simple enthusiast. In the gallery as well as online, prices are always displayed or easily deductible. Do not worry, anyone can contact us and receive all the necessary information. Accessibility also lies in our differentiated offer: from Deodato Arte you can buy a work of art for a few hundred euros, but also unique pieces and coveted limited editions of very high value.
At the heart of Deodato Arte Gallery is Deodato Salafia (Deodato is the first name, not the last name). Computer scientist and theologian, he has been a programmer of algorithms since 1986 and has experienced the boom of personal computers and the new economy at first hand. He bought his first artwork in 2001 and opened his first gallery in 2010
Deodato Salafia is a gallery owner who has become famous in the city for his flair: he discovers artists, sets trends, brings young people closer to the world of contemporary art.
Deodato is therefore the man whom the sector, far from the business, rewards precisely because he does not fear the market.
For a more detailed offer and more information on the artistic proposals of Deodato Arte you can contact us at our references for dedicated service with an expert who will be at your complete disposal.
Sorry, there are no products in this collection